SC GRILL IS CLOSED FOR BUSINESS!
We Started SC Grill Catering with the Passion of Sharing the Wonderful Food We Have Experienced and Continue to Enjoy. We Started Our Foodie Journey In Las Vegas where we got to enjoy and learn about Amazing Food So we became instant Foodies while we lived there. First, the most important SC Grill's Catering and Food Truck learned is everyday Meals don't have to be plain or boring. Next, The quality and freshness of the ingredients is absolutely necessary for a delicious Meal. Finally, the proper amount of seasoning and cooking at the perfect Temperature is the key. Lastly, getting it on the plate and in your mouth as fast as possible so nothing leaves your amazingly fresh meal.
SC Grill's Catering and FoodTruck are Locally Located here in Spring Hill Just next to Brooksville in Hernando County FL. SC Grill's Mission is to Elevates Everday Foods As Well As Making Our Own Creations That Will Make Your Tastes Buds Smile and Dance. We Look Forward To Seeing you At A Local Food Truck Event Or Catering Your Own Party Or Special Occasion.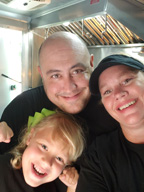 Please Follow us On FaceBook and Instagram. To Find our Next event or or for our most Current News Book Mark our scgrill.com Page.