Welcome Oak Hill Hospital Great to See You All Again!
SC Grill ( Supreme Cuisine) Is A Food Truck And Catering Business "Mobile Catering" Located In Central Florida's Gulf Coast.
We Serve Pinellas, Hillsborough, Pasco, Citrus and Hernando Counties. SC Grill Elevates Everyday Foods As Well As Our Own Unique Creations That Will Make Your Tastes Buds Smile and Dance.
SC Grill Also Provides Mobile Vending for Corporate and Public Events. We Have a 20 ft Concession Trailer, That we Call The Mobile Foodie Kitchen. Every Thing is MadeOn Location So Our Customers always receive a Hot Fresh Delicious Made To Order Meal.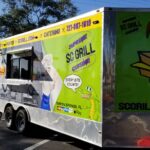 We Look Forward To Seeing At A Local Food Event Or Let Us Cater Your Own Party Or Special Occasion. SC Grill also Provides Online Ordering. SC will Fill all your Food Truck And Catering needs.
Contact us At Email@ScGrill.com or Call 727-807-1010
SC Grill Accepts All Major Credit Cards and Apple Pay.