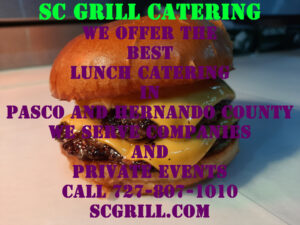 SC Grill Provides The Best Quality Lunch Catering Near Me in Spring Hill, Brooksville, Hudson and New Port Richey. We Offer Delicious Fresh Lunch for all Types. SC Grill Catering Serves Businesses and Companies as well as Private Offices and Individuals in Hernando and Pasco County. We are the Perfect Choice Instead of Trays of Food or Sandwiches. SC Grill Food Truck Makes All your Hot Meals on Location and to order,
SC Grill Lunch Catering is Well Known for amazing Burgers and Gourmet Philly Cheese Steak Egg Rolls and Hot Juicy Crispy Chicken Sandwiches. We make them fresh and from scratch So every Bite is amazing. Our Goal is to Cater to your taste buds so you keep wanting more.
We are Local to your area so there is a good chance someone you know can confirm our quality and deliciousness. We are located on the border of Pasco and Hernando in Spring Hill FL. SC Grill is with in 1 Mile of Hudson and Brooksville.
SC Grill is perfect for your Business, Company or Office Lunch Catering Near Me. Our Food Truck Comes to your Business or Company Picnic Location and Serve Fresh Made to Order meals to your Employees or Customers So we are great for Company Appreciation and Holiday Parties.
Food Catering is our Specialty So we are the Best Choice For Catering Near me in Spring Hill, Brooksville, Hudson and Port Richey. We are Considered by many as The Best Food Truck Caterer in Pasco and Hernando County.
Contact SC Grill Today to Book The Best Lunch Catering Near me. Call 727-807-1010 or Email us at Email@scgrill.com