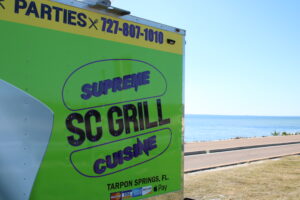 Looking to Through an awesome birthday party for a Family member Or Friend, but not sure what to do? You Don't want to Hire that same old boring cater with tin trays of food. SC Grill is the Perfect choice for your Birthday Party Catering. First, we Pull up in our Large cool trailer that makes a statement and has people saying Wow that must be some party.
Our menu has a lot of great items to choose from. We also can create something unique meals for just you and your friends that any foodie would die for. Your Guest Can Order Online from their seat.
SCGrill Services Pasco County and Hernando County so if you live in New Port Richey or Spring Hill or anywhere in between SC Grill will be glad to Cater your Birthday party.
Choose Sc Grill for you Birthday Party catering your child's 1st bday, or sweet 16 and for your 40th or 65th Birthday. Not only will or presence be dazzling, our delicious food will be mouth watering.
Contact SC Grill Today for any Questions and to Book you Birthday Party With us. You Can Call 727-807-1010 or Email us.