How Much Does Food Truck Catering Cost In Spring Hill, Brooksville, Hudson or New Port Richey. Hiring a Food Truck To Catering your party or Company Can range from $8-22$ Per Meal depending on the Menu Items and The amount of People. Plus a Set up Fee which Varies. Most Food Trucks do adhere to Minimums So they can range from 800-1500 depending on Food and Time of year.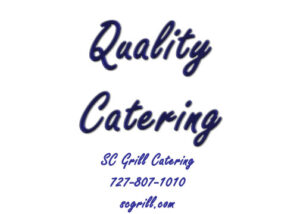 Hiring a FoodTruck is not always about budget, Especially when the party size is smaller. Food Truck at your Party or Event is about Bringing a Commercial Kitchen to your Location. Your guest get to the opportunity to have a fresh delicious meal that was just made for them. The Truck itself is a Spectacle alone but it also says have delicious fresh food so even foodies will be wowed. How Much Does Food Truck Catering Cost
SC Grill Food Truck and Catering makes Hiring a Food Truck Simple. We have a Highly customizable menu to fit any budget So We Let you know up Front How Much Food Truck Catering Costs. We also let you know where you can save money or where you can make a huge difference in amazing your guests or employees.
In 2022 with most restaurants cutting back on food quality or even menu choices due to staff and product shortages. They become a very risky choice for Catering. SC Grill Comes to your Location and you get to pick and choose exactly what you want. We only use fresh high quality Ingredients for all of our meals. Restaurants never let you in to their Kitchen So you have no Idea where your food is being made. We welcome everyone to peek in to see their mouth watering Meal being made and the cleanliness of our kitchen.
Contact SC Grill Food Truck and Catering . We will tell you How Much Does Food Truck Catering Cost In Spring Hill, Brooksville, Hudson or New Port Richey. Call 727-807-1010