How Much Does it Cost For Lunch Catering in Spring Hill, Brooksville, Hudson and Port Richey. Lunch Catering for Companies or Businesses do not have to be expensive So Having lunch Catered is a great option. The cost can be anywhere from $5 to $25 a person depending on the Quality and Freshness.  For example having sandwiches brought to your office can be relatively inexpensive. The opposite to that would be having a Catering Company come in and bring in trays or food, tables, Utensils and Tents which can be very expensive.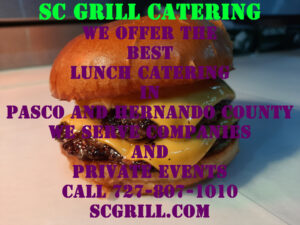 The Best option these days is in the middle So your companies wallet doesn't break and your people aren't eating cold food. That option is Food Truck Catering So no Clean up and amazing food. This option allows you to set a menu and give options to your employees or customers while allowing them to get a hot fresh meal. The Cost for Lunch Catering with a Food Truck is usually around 9-16 a person depending on the food selection and number of meals. The best part is the more people you have the Cheaper it usually gets per person.
Food Truck Lunch Catering is the number one trend for Company Lunch Catering in Big and Small Businesses. A lot of Food Trucks specifically have Catering Menu's and Costs just for Office Lunch Catering and Company Picnics. When Hiring a Food Truck for Lunch Catering it is important to ask how many people they can serve in a short time and is their Catering Menu Flexible. Food Trucks are Fun. They are Delicious and Fresh. Last Food Truck Lunch Catering are what your guest want. Find Food trucks in Spring Hill, Brooksville, Port Richey and Hudson on Facebook.