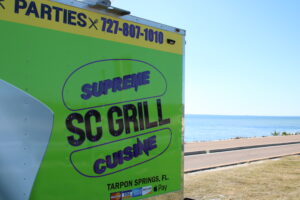 SC Grill Mobile Catering For Hernando And Pasco Counties. We Cover every Town In Pasco New Port Richey, Trinity, Wesley Chapel, Land O Lakes, Dade City and Odessa. Hernando Counties We Cover all Towns like Spring Hill, Brooksville, Weeki Wachee, Wiscon, Spring Lake and Pine Island. SC Grill has a Fresh Delicious Menu for Mobile Catering Near Me.
SC Grill is a Delicious Catering Option for Making you and Your Guest feel special. We have a Set Menu that You And Your Guests or Employees can Order From. Our Menu is Customizable so your Guest or Customers are completely Satisfied. SC Grill's Mobile Catering Near Me Service provides a Level of Catering only Offered By High End Restaurants. Your Guest or Attendees get to order what they want when they want it. Mobile Catering from SC Grill Guarantees you will get a Custom hot fresh meal every time some one orders.
SC Grill's Mobile Gourmet Restaurant brings fine dining to you. SC Grill's Mobile Kitchen cooks your Meals on site. Most Caters cook your food at a separate location which means every minute that your food is done it degrades. SC Grill is from grill to mouth with in Minutes.
Contact SC Grill Food truck for Mobile Vending. Please Contact us as early as possible as we do book up quickly due to our High Demand. SC Grill Also has Online Ordering for you and your Guests.