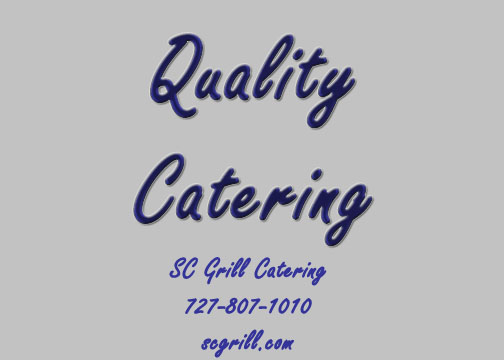 SC Grill Caterers Offer Affordable Quality Catering In Hudson FL. We do Baby Showers, Wedding Receptions, Retirement and Birthday Parties so We are in and Around Hernando and Pasco Counties. SC Grill Affordable Local Caterer Food Truck Cooks On Location So we can Handle any Size Catered Party.
SC Grill Catering Cooks Fresh High Quality Plates and Appetizers for all of Your Guests and Your Special Catered Evening. SC Grill Makes every Meal when each guest decides to order it so every bite Is the best and Delicious. We are Located on the Hudson and Spring Hill Line So we are local and Friendly.
SC Grill Caterer has 5 star Google and Yelp Reviews for Quality Catering In Hudson FL We Have lots likes and followers on Facebook and Instagram So Please Follow Us and Send Your Catering Ideas and Questions.
SC Grill's Team will help You with Catering Food Ideas and Choices for Your Private Hosted Party. No Way to Tin Trays and Chaffing Dishes of Old Food So We only Do Fresh. We make everything for your Private Catered Party To Order and on location.
Please Call SC Grill Caterers To Book Your Affordable Quality Caterers In Hudson FL. Call 727-807-1010 or Email us With Any Times for Party, Location Of Party and If you Wish to Have an Outdoor BBQ or an Indoor Venue Shower Party.