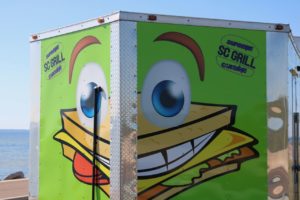 SC Grill is The Perfect Solution for a Unique And Fun Retirement Party. You Worked Hard all Your Life and want to Finish Your Career with a Wow. The Best Retirement Party starts with us. It's your day and you don't want to be sweating over a grill or throwing out trays of uneaten food from a Local Cater. SC Grill Caters a Party in way where you can relax and your guest say That was delicious. SC Grill prepares and served each guest with a hot Fresh made to order meal.
First, We have Our Amazing Food Menu which people love or, You Can Alter ours or Customize your own. SC Grill wants have the perfect Menu to meet You and Your Guest's Needs. Your Guest will be wowed when they come up to our custom Trailer that has a state of the Art Kitchen Inside. They can Order What they Want Exactly When They Want. The Best Part is their Meal was made just for them.
SC Grill Has Amazing Delicious Mouth Water Burgers and Gourmet Phili Cheese Steak Egg Rolls. We Also, have Tender Juicy Chicken Sandwiches with Our own Spicy Sriracha Sauce or our Sweet Honey Mustard. We Can not forget our Foodie Favorite Parmesan Truffle Tots.
Book SC Grill Today for a Retirement part you are your Guests will not forget. You Can Click Here to go to Our Contact Page also for any Catering Questions Or Food Menu Ideas. SC Grill Serves Pasco and Hernando Counties. Port Richey, Hudson, Spring Hill, Trinity and Brookesville.