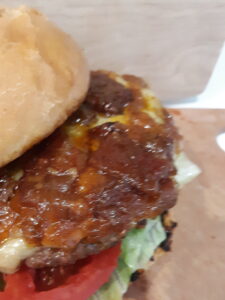 The Bourbon Bacon Jam Burger is the New Craze in Gourmet Burgers. SC Grill Introduced its new Bourbon Bacon Burger back in September this year. This Burger is our new Addition to Our Menu for Catering, Private Parties and Mobile Vending for Events and Fairs. In September We Also Added our New Egg Roll The Cluckin Philly, Which is a Chicken Cheese Steak with Caramelized Onions and Roasted Green Peppers.
Bacon Jam started off as an Austrian dish, Called Verhackert. The Recipe got Augmented with Bourbon just 4 years ago. Bacon Jam, Created by Cooking down Onions, Shallots and Garlic with a Vinegar Brown Sugar and Maple Glaze. Next, add Chopped Perfectly Cooked Thick Bacon and stir it in. The completed Mixture simmers on low for 15 to 20 minutes, So all the flavors Marry together. Finally, You have this amazingly Sweet and Savory Chutney that you can't stop eating.
The Bourbon Bacon Jam Burger is the result of adding the Bacon Jam on to a Perfectly Seared Cheese Burger with Aged Cheddar Cheese. We at here at SC Grill compliment this Delicious Burger with a High Quality Grilled Brioche Bun.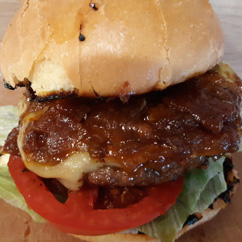 The Bourbon Bacon Burger is Just one of Three Gourmet Burger we offer for Catering. Contact SC Grill for your Next Party to Cater or Event for Mobile Vending. Our food truck and Concession Trailer can accommodate all size Corporate and HOA and Public and private events.