Today large events Like Customer and Employee Appreciation Parties have become tricky to pull off with the Corona-virus "Covid 19". The first difficult hurdle is getting people to leave their Home to attend. Once you have enough People For a Large Gathering now you have to keep them safe. The trick to doing a Large Event Catering is Space, Space and More Space for Social Distancing. SC Grill Large Event Catering Trailer has is Designed to Create Proper Social Distancing.
SC Grill has a Delicious Food Menu or we Like to say Foodie Menu. We have everything from Mouth Watering Specialty Burgers To Our Own SC Rolls. SC Rolls are our take of a Phili Cheese Steak wrapped and fried into a gold brown egg roll so make sure you order 4. Finally, Our newest addition to our Menu is a Baja Shrimp Taco top with a crazy yummy Avocado salad. You can also customize our menu so no guest is left with out. Every Meal is Always Made to Order so everyone is getting a Hot Fresh meal.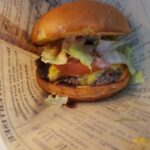 Finally, For The Covid 19 "Corona-Virus" we setup an Online Ordering System. The Online Ordering for Large Event Catering is important to Support Social Distancing. Guests or Attendees simply goto ScGrill.com and order exactly what they want and the time they want to pick it up so no one needs to stand in line. This now allows for a complete Contactless service for your Large Catering Event. Your Employees and Customers will feel much safer while being able to enjoy themselves.
Call SC Grill Today Or Email Us with any questions or Concerns for Large Event Catering.