SC Grill Offers Quality Catering Brooksville, FL. We are a Local Catering Company that Provides Delicious and Affordable Meals for Event, Birthdays, HOA Communities and Fairs and Craft Shows.
SC Grill Has a 20 Foot Mobile Food-Truck So We Come to You with Everything Needed. You Can Book your Catering By Email, Phone, FaceBook and Instagram. We have plenty of 5 Star reviews so you can Trust our Catering will be Fun and Yummy.
Our Quality Catering service also Comes With Idea Plans for Party and Event Themes And Food Ideas. We are Located right next To Brooksville, FL In the Town Of Spring Hill, FL.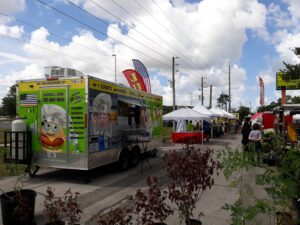 Our Quality Catering Menu can be Customize So any Type of Event, Party, Employee Luncheon or Corporate Function Will Be Great. We Can Provide Appetizers, Finger Foods, Hand-Helds, Burgers and Main Courses. SC Grill Comes with a Catering Full Kitchen so We Can Meet all of your guests dietary restrictions. We also Make all of our food Fresh and Made To order.
Contact SC Grill Today to Book Your Quality Catering In Brooksville, FL. Please Call Our Spring Hill Location at 727-807-1010 Or Email us at Email@Scgrill.com. Our Catering Appointments can book up quickly so Please Book your Private Catering as Far Out as Possible.