Gourmet Egg Rolls have been the new craze for the last few years. The idea of putting New and Exciting ingredients inside the Traditional Egg Rolls have created some Delicious and Amazing New Flavors. If you are a true Foodie and you have not tried them now. The SC Grill Gourmet Egg Rolls have become a Pride of Our menu. We are always coming up and trying new ideas for our Gourmet Egg Rolls So we can offer something New and Very Tasty to our Customers. Right Now We are offering 3 different rolls for Catering and Events for vending, the Phat Philly, Cluckin Philly and the Bing Bang Bam Shrimp.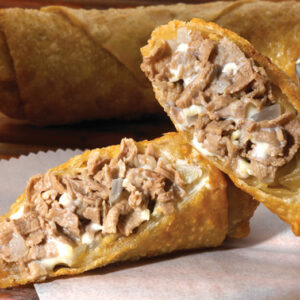 The Phat Philly was one of our earliest Egg Rolls. To begin who doesn't like a Delicious Philly Cheese Steak? The thinly sliced Rib-eye Steak seasoned lightly seared and cooked slow for a super Juicy Bite. Saute Onions and Green Peppers dice finely to create a perfect even mixture. The most Important Ingredient is Cheese of course. Finally, the Cheese has been up for debate as to which is best Provolone, Mozzarella, or Cheese Wiz. We decided for our Gourmet Phat Philly Egg Roll to use both the Provolone and the Mozzarella So we could get the best of both worlds.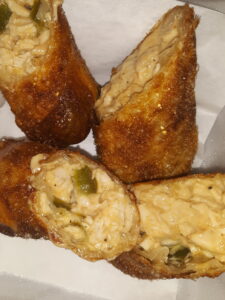 The Cluckin Philly Actually is one of Our most recent Gourmet Egg Roll. Instead of using Steak we used Chicken breast. To begin we needed to get the Chicken down to a small size. We Wanted to achieve many thin pieces so all sides could have amazing flavoring. This Process required pounding, pulling and grilling at high heat to get a final result that would work in our Egg Roll. To keep some familiar flavors we still include our Onion and Pepper blend. However, when it came to the cheese I felt the White American Cheese worked best for complimentary flavor and color.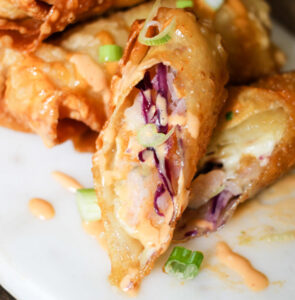 Finally we have The Bing Bang Bam Shrimp. This roll was thought up as a way to bring my love of seafood to our menu. We decided to use Shrimp as our protein. Everyone loves shrimp and on the gulf coast of Florida they are really good. To create a body to the roll we used a fine cabbage blend so we have both nice crunch and flavor in every bite. Finally, we added a bit of Heat and Sweet with a Mixture of Pepper Jack Cheese and our Sweet Sriracha Sauce. The end result is an Delicious Egg Roll that you can't stop thinking about .